Replacing timber flush casement windows can be fraught with difficulties as not only do you have planners to contend with but you also don't want to spoil the appearance of the property. It's not difficult at all though if you choose Envisage – a brand new take on the traditional flush casement window.
Envisage has all the hallmarks of an authentic flush casement such as the exquisite lines and proportions but it isn't manufactured from wood – we use UPVC believe it or not. You wouldn't think they were crafted from UPVC but they are.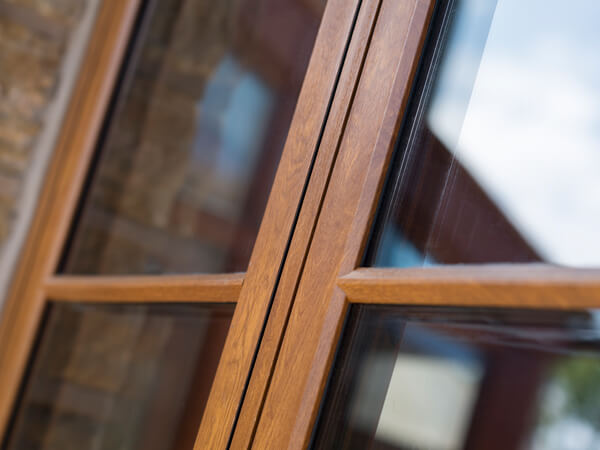 It's all about the details when selecting your hardware…
We have also painstakingly created a number of hardware solutions to go with the Envisage range – monkeytail handles and stays, for example. The functionality of our luxury flush window can be credited to the beautiful handles and stays we incorporate into the design – we have several handles and stays available.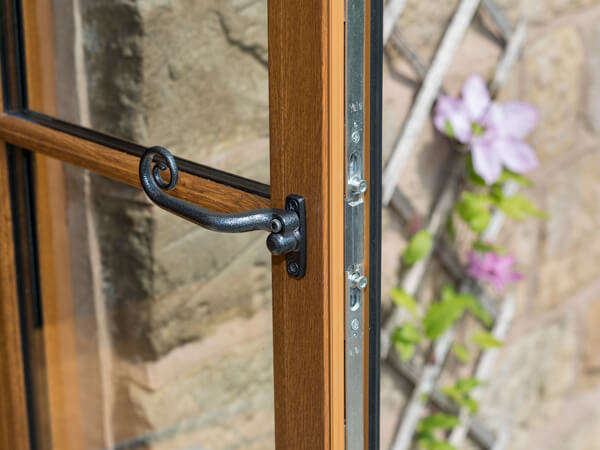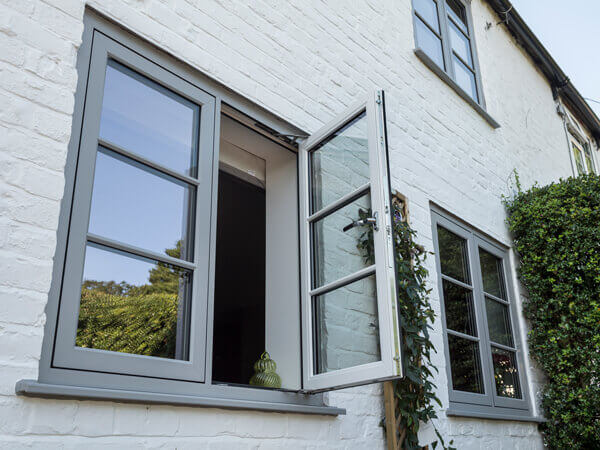 NEED MORE INSPIRATION? REQUEST A BROCHURE
Simply select the brochure(s) you would like to browse, fill in your details, and then click 'Download'.
Step 1 - Please select the brochure(s) you would like:
About our Envisage Flush Windows
A traditional flush casement window fails to give the modern home the stylishness, security and thermal efficiency it needs.  Crafted using a durable UPVC frame, it is styled in similar fashion but meets modern window performance standards.
Click on each of the hotspots opposite to find out more about the intuitive features on our flush window.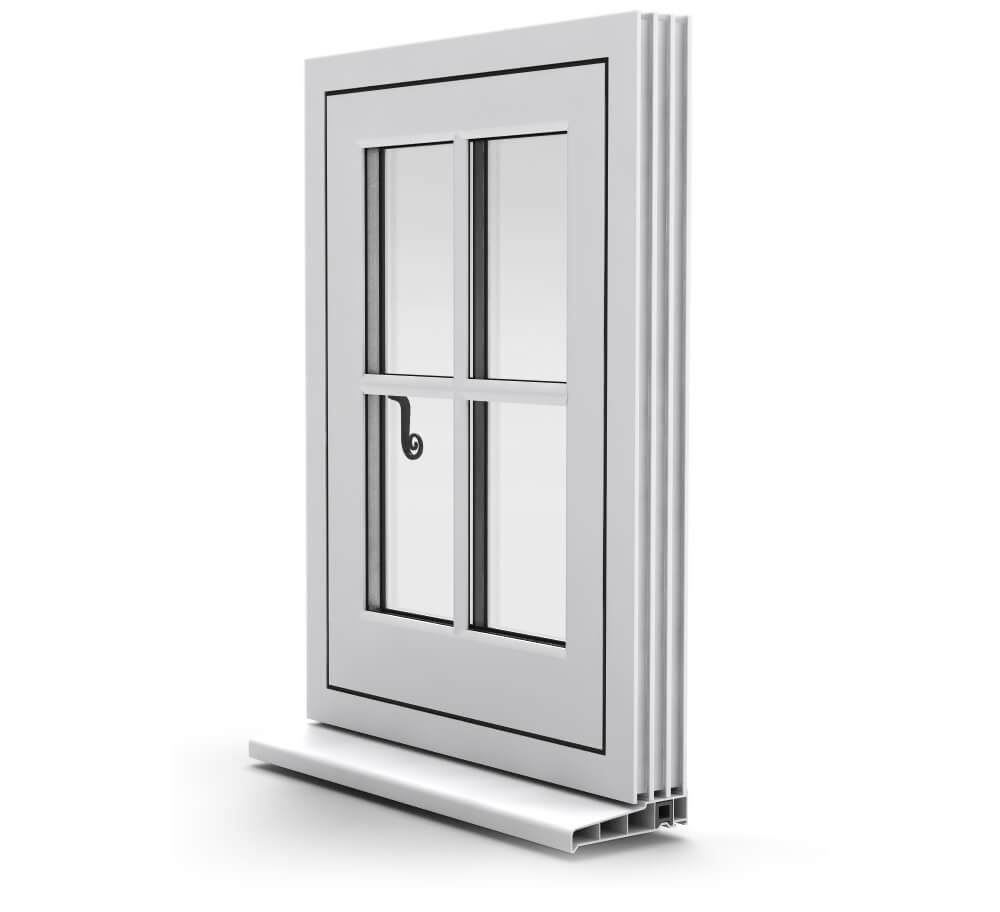 Envisage Locking
Featuring our robust shootbolt envisage locking system, you can rest assured you Envisage window will keep you home and family protected from the threat of break-ins.
Envisage Glass
Draughts and cold spots are a thing of the past. We've used smart design and high-performance next generation glass to guarantee your warmth and comfort. So, all you need to worry about is which style and colour to choose.
Envisage Frame
Appealing to the perfectionist in you, the perfectly balanced symmetrical panes make for a clean, flush and minimalist finish. Multiple astragal bars allow you to create a design that's ideally suited for traditional properties.
Envisage Hinge
Easy-clean Friction Stay Hinges with smooth operation and anti-crowbar technology to prevent would-be intruders from accessing your home.
Envisage Handles
Whether you're matching handles to a modern new-build or a traditional cottage property, you'll find the Envisage hardware range is well positioned to meet even the most unique of needs.
Save on future energy bills...
We use intelligent glazing technology to regulate the temperature of your room, keeping your home comfortable throughout the year. The coating traps internal heat and uses warmth from the sun so your home stays warm in the colder months.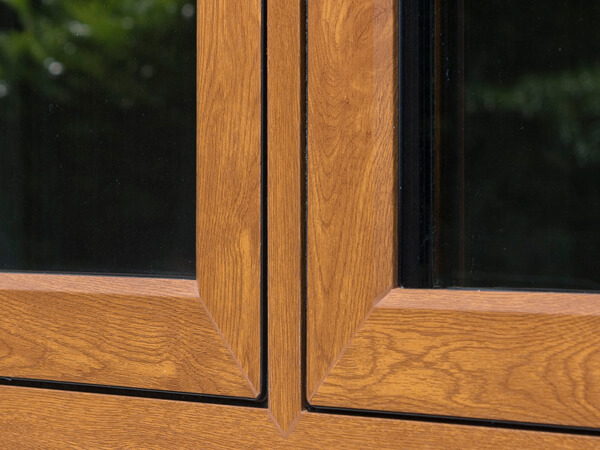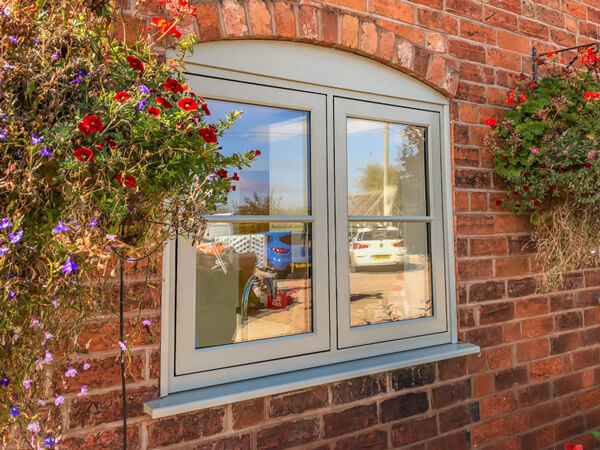 THE SMALL DETAILS MATTER
We may describe them as 'small details' but your choice of colour, glazing and hardware is extremely vital when considering the overall look of your Envisage Flush Window.
Envisage deserves a stunning finish...
The colours available for the Envisage range have been specially developed for this inventive flush casement window – you can pick from a wide choice of shades, wood effects and textures. Whether you want a colour that helps Envisage subtly blend into the building or you want people to really notice its installation, we have you covered for colours.
If your property has different styles on the interior and exterior, Envisage gives you the option to pick a different finish or colour on the inside and outside portions of the frames.
A great window needs a great choice of glass...
Our glazing solutions come with a very thin coating, one that's impossible to see, and this coating helps ensure the thermal performance of Envisage is more than sufficient. We fill the sealed unit with gas and spaces to create a thermal barrier to prevent the cold from outside getting through and to trap warm air generated internally. Unless you get your glass choice right, Envisage won't perform to the standard you expect it to, but we won't let that happen as we're always happy to help.
Hardware can have a significant influence on the window...
There's much to think about when buying Envisage and we're not just talking about picking a coloured finish. You must also inform us of the hardware you would like affixed to the design as it will have just as much of a bearing on the window's character. Look at and touch our full range of handles and hinges to get the perfect hardware.
ERG Scotland PROMISES
Every promise we make, we keep. Every time. Our promises are bold and are there to assure you that we're completely confident in our products and our service.
TRANSPARENT SERVICE
At ERG we realise the importance of gaining trust and not expecting it. We believe this is achieved through hard work, honesty, transparency of our services and valuing our customers.
Ethos of ERG Scotland
Our teams adhere to a strict ethos which is to achieve only the highest standards of excellence at all times. We listen to our customer's needs and tailor our services to meet all individual requirements.
20 Year Guarantee
ERG Scotland is proud to be Scotlands very first to offer a 20 Year Guarantee. Not only that, you will also be covered for both moving and non-moving parts. Our confidence in our products and dedication to our customers means we'll be there for you well into the future.
Price Promise
Giving our customers complete confidence in the price that they pay is very important to us. So, if you, or any customer, can find the same product specification and service commitment cheaper elsewhere, within 14 days, we'll refund the difference.
OUR FINANCE CALCULATOR
See how affordable your home improvement can be with our Finance Calculator.
INSPIRED? GET A FREE QUOTE TODAY!
Simply fill in your details for your free, no obligation quotation, and click "Get Quote"
DISCOVER OUR FLUSH WINDOWS
Our flush windows are perfect for any homeowner in Scotland looking to replace their old window frames. They're guaranteed to enhance the aesthetic of your home and help keep it energy efficient and secure. If you're not sure if flush windows are right for you, we've answered some of our most commonly asked questions below to help you decide. If you have any other questions don't hesitate to contact our team.
Which homes suit flush windows?
Flush windows are all the rage at present, not that they ever went out of fashion.
ERG's Envisage flush windows can complement just about any house type, which explains their roaring popularity amongst Scottish householders.
They are extremely well-suited to rustic looking new-build properties, with their uncomplicated lines and proportions fusing wonderfully with their architectural makeup. Our broad colour palette includes true to life wood grain effects, with each available finish sure to make Envisage windows look right at home in the apertures they occupy.
Envisage windows are just as compatible with modern, minimalist residences as their sleekness and modest aesthetic will add the perfect contemporary touch for heightened elegance. Colour matching Envisage so that it harmonises with your property is just one method of customising its exquisite design.
If your property falls into the 'heritage' category, Envisage windows have the classic styling to work and are full of modern features. They are so akin to traditional wooden windows, but only in looks as they are markedly stronger and much lower maintenance. Several of the coloured shades are sure to cutely coordinate the windows with your heritage abode.
How much can I customise my flush windows?
Deeply personalise our flush windows by choosing the hardware, colour, glazing and more…
You have scope to customise ERG's fabulous flush windows so that they meet your individual needs to the very last detail and complement your home's styling.
Within the colour spectrum for Envisage are both modern and traditional colours. Therefore, you shouldn't have difficulty in finding a finish that pairs terrifically well with the house, and not just externally as you can request dual-coloured designs.
Fans of timber windows can emulate their unmistakable look with one of our believable timber grain finishes. A likeness in appearance will be the only similarity though, with Envisage exhibiting far greater strength and weatherproofing.
Our hardware also comes in a variety of contemporary and traditional styles and will have a big impact on the overall design. Some of our handles are remarkably sleek and up-to-date, and some are ornate and classic in their look, helping you find a handle that effortlessly matches your home.
Customisation options extend to the glazing for your flush windows too as you need it to account for your objectives. Our energy efficient glazing can help reduce heating costs or shut out unwanted noise with acoustic glazing.
We'll let you determine the openings and configuring of the windows. If it's casement windows, sliding sash windows or tilt and turn windows that you desire, we have each of these styles in stock and are happy to let you make your mark on their stunning design.
Why should I install flush windows?
A flush window installation will repay you with multiple benefits.
New flush windows will significantly raise the kerb appeal of your property with their gorgeously sleek styling and neat aesthetic. Very few window styles are as versatile as flush window designs, and they are a perfect match for homes new and old, available in a variety of engaging finishes and colours.
Simple to maintain, flush windows also have enduring durability and are highly energy efficient to help lower heating and cooling usage. Customise their design with multiple hardware elements, attractive glazing, and configure the product so that the windows align with your preferred taste and functionality needs. In summary, flush windows merge style, resilience, and thermal performance – all the qualities you want in a replacement window.
Are these windows easy to maintain?
Flush windows need very little attention.
Unlike some window offerings, flush windows are not susceptible to rotting, corroding, decaying, and such, so you don't need to spend a single minute of your precious time sanding, painting, or staining them. They are built to look after themselves, saving you the hassle of keeping them in good condition.
Maintenance needs to only be an occasional routine and cleaning the windows is as straightforward as wiping the frames down with mild soap and water. Dirt and debris won't get as ingrained in flush windows due to the absence of any protruding frames and sills.
These hard-wearing and sophisticated windows will remain just that throughout their extensive lifespan without you having to commit to regular window preservation.
Are flush windows energy efficient?
Energy efficiency is a key attribute of flush windows.
Flush windows have superb thermal insulating properties which is why they're so good at keeping indoor temperatures at a consistently comfortable temperature.
We insert energy efficient glass into our flush windows to promote heat gain and stem heat loss, and the tight seals and weatherproofing heavily contribute to their ability to lessen draughts and energy usage. Retaining more warmth in winter and cooling your living space in summer, expect our flush windows to cheapen your energy bills.
The elegance of flush windows will magnify the attractiveness of your home, all whilst reducing your carbon footprint by helping you conserve energy.
Want to speak with an Advisor? Give us a call on 01349 856900
Our friendly team will be pleased to help with any questions you may have.