Custom built folding doors with sleek aluminium or UPVC frames are superbly engineered to allow for the weight and frequent movement of the doors. Bi-fold doors are a fast and easy way to add light, space and value to your home. ERG are the specialist folding door suppliers in Inverness and throughout the Scottish Highlands & Islands. Also known as folding doors, sliding doors or folding patio doors, the good-looking frames of an ERG bespoke bi-fold door made in aluminium or UPVC ensure style, security and satisfaction.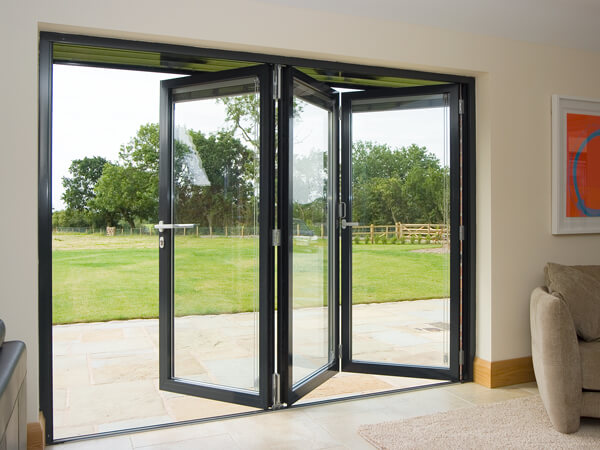 Bi-folding doors are one of the most sought after home improvement products, so if you're looking to replace your old patio doors then folding doors with aluminium frames are a contemporary way to easily transform your home and create new, light-filled living areas. Because of the weight of the doors combined with the frequent movement, expert product engineering is crucial and our customers appreciate that we are specialists and trust the recommendations and advice that we provide.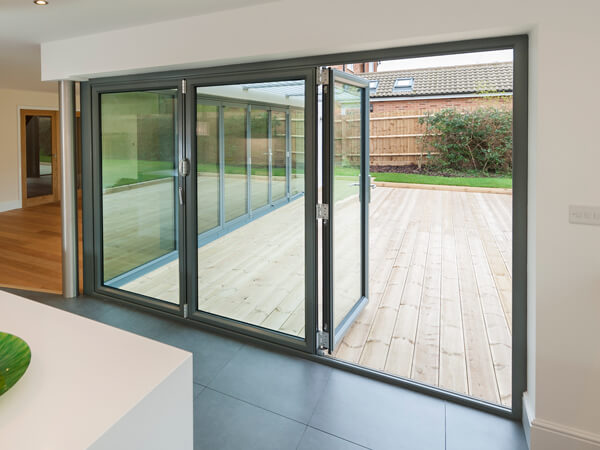 NEED MORE INSPIRATION? REQUEST A BROCHURE
Simply select the brochure(s) you would like to browse, fill in your details, and then click 'Download'.
Step 1 - Please select the brochure(s) you would like:
Bi-Fold Doors
Our bi-folding doors are made from lightweight, contemporary materials that make opening and closing your door a breeze.
If you want to learn more about the features of these stunning doors, click on the hotspots opposite.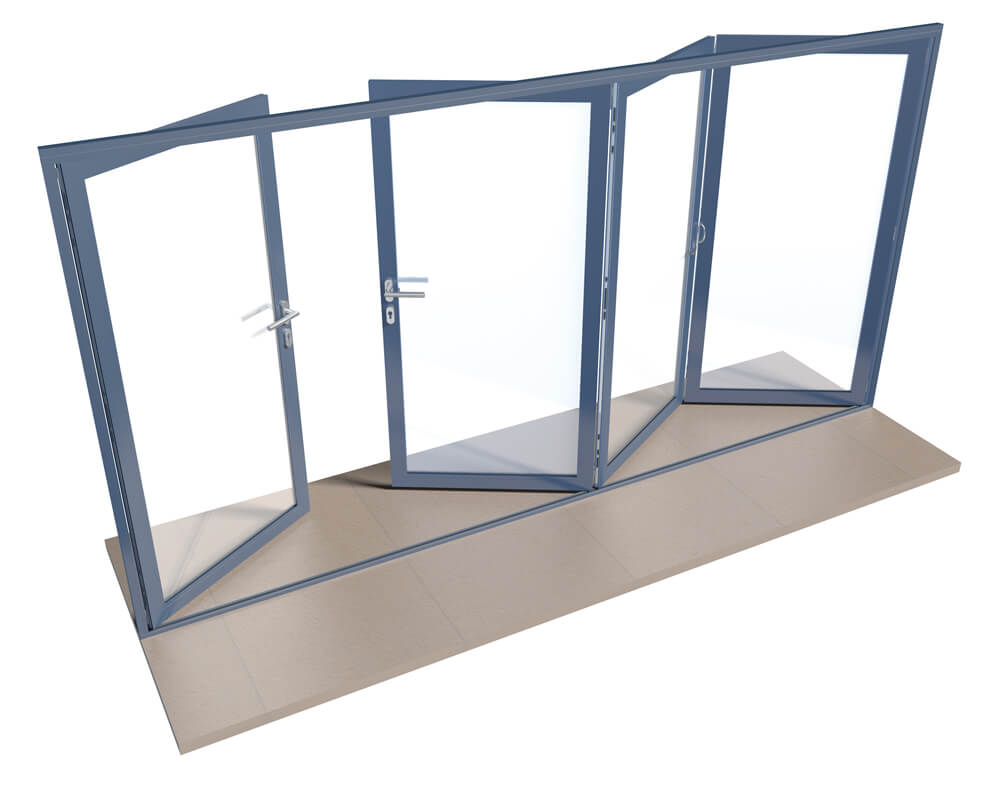 Bi-Fold Frame
Our Bi-Fold frames boast maximum warmth and security and slide effortlessly to the side to make the most of your space. You can even incorporate a discreet passenger door for everyday entry.
Bi-Fold hardware
Our Bi-Fold Door Handles come in a range of colours to suit your home, they're built to last with robust materials and quality finishes.
Bi-Fold Easy Glide System
The sliding operation of a bi-folding door relies on a high-quality stainless-steel track on which quad rollers, which are fitted to the door leafs, glide along in elegant fashion. The same quad rollers are fitted with a small brush on one end to keep the tracks free of dust and dirt.
Bi-Fold Low Threshold
Low level thresholds increase the ease of access for everyone involved. An optional outer and inner ramp can be added on to the threshold to further enhance the accessibility for wheelchair users.
Security certainly hasn't been overlooked by our designers...
All of our bi-folding doors come fitted with some of the most sophisticated security mechanisms that have been developed in the industry. This includes a multi-point locking system that when engaged will make the whole of the door impossible to shift.
You can buy our bi-folding doors with double or triple glazed units. We have also incorporated cylinder locks into the master handles to ensure that the doors stay fixed shut whenever the door lock is engaged.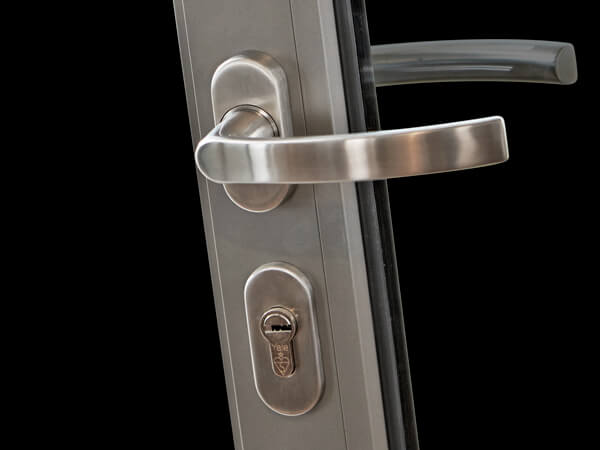 COMPLETE THE DESIGN IN STYLE
After deciding on aluminium bi-folding doors for your home, you will then choose from a variety of colour finishes, glazing options and hardware possibilities.
Bi-fold doors can be made with as few as two panes.
With all bi-fold doors, configurations can be manufactured in arrange of sizes, colours and configurations. This minimalist style of bi-fold door could be used internally to connect a room with an orangery or conservatory, or you go choose from our 7 panel bi-fold door to create a large opening to your garden.
The colour is a big choice and there are plenty of finishes on offer...
After configuring your bi-folding doors, think about what colour you would like to be applied to the elegant aluminium frames. Our colour options include a number of woodgrain finishes – Walnut, Rosewood and Oak. The rest of our coloured finishes are incorporated into the design using a powder-coating process as this method helps ensure that our finishes last as long as the doors themselves. When one colour isn't enough, you can always go for a dual-coloured finish and have separate colours on the inside and outside of the doors.
Can you handle such delicately designed handles?
You may want to choose your handle/s based on the configuration of your bi-folding doors. A master handle is a must when there is a passenger door and integrated French doors. We insert a cylinder lock into the master handle and it will engage with all other components of the locking system when the bi-folds are locked.
There is a D-handle and intermediate handle on each individual section of the bi-folding door. The purpose of the intermediate handle is to release the folding panes from the door when it's being opened and to re-engage them when it's being closed. The D-handle can be used to push or pull the folding panes. We have a superb choice of master handles, D-handles and intermediate handles available at ERG.
ERG Scotland PROMISES
Every promise we make, we keep. Every time. Our promises are bold and are there to assure you that we're completely confident in our products and our service.
TRANSPARENT SERVICE
At ERG we realise the importance of gaining trust and not expecting it. We believe this is achieved through hard work, honesty, transparency of our services and valuing our customers.
Ethos of ERG Scotland
Our teams adhere to a strict ethos which is to achieve only the highest standards of excellence at all times. We listen to our customer's needs and tailor our services to meet all individual requirements.
20 Year Guarantee
ERG Scotland is proud to be Scotlands very first to offer a 20 Year Guarantee. Not only that, you will also be covered for both moving and non-moving parts. Our confidence in our products and dedication to our customers means we'll be there for you well into the future.
Price Promise
Giving our customers complete confidence in the price that they pay is very important to us. So, if you, or any customer, can find the same product specification and service commitment cheaper elsewhere, within 14 days, we'll refund the difference.