It used to be the case that families would all gather in their living rooms after work to chat about their day and watch their favourite TV shows, but times have changed.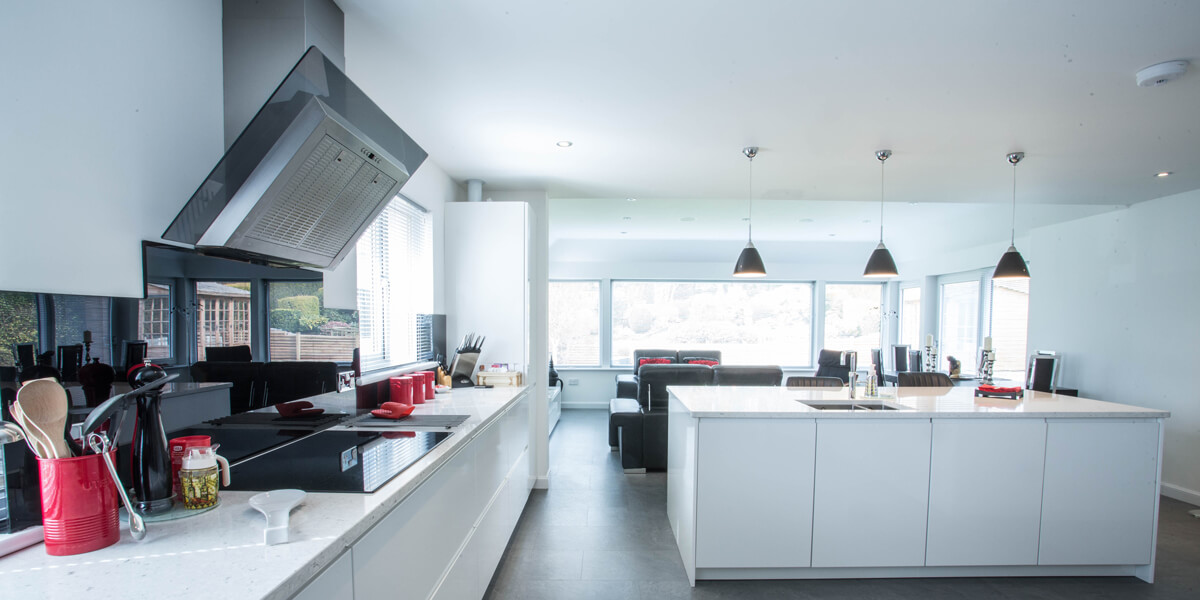 Kitchens have now taken on this role in many UK households, no longer being preserved for just cooking and dining in, becoming the busiest, and arguably, most important room in a house. 
If you're still currently sticking to tradition and mainly in your living area when at home, but want to swap it for a more kitchen-led lifestyle, how about we build you a kitchen extension? 
Our kitchen extensions can cater for everything you need. However, its design must be thought out properly, which it will be if you consider the three following things. 
Configuration
Your new kitchen needs an arrangement that makes cooking, dining, socialising etc. as easy as pie. 
A kitchen layout that's frequently implemented is the 'kitchen working triangle' so that you have your sink, oven and fridge in a triangular-like formation to help you see to any kitchen chores without hassle. 
Open-plan kitchens also remain popular, a layout achieved with the absence of walls and partitions. One of the main benefits of an open-plan design is that it helps communication flow freely. Other options include an L or U-shape. 
Storage
There's a lot of things inside a kitchen, from pots and pans to food and all those many appliances, and any new kitchen needs to be able to house it all. 
To identify how much space and storage you will need, firstly begin by getting rid of anything you don't need. 
Maximise floor and worktop space by doing things like hanging utensils from the ceiling or on the walls so that they're out of the way. 
Colour
One of the biggest decisions you face will be selecting an appropriate colour scheme, but it shouldn't cause you any stress. 
Ask to see the colour wheel and when looking for colours that might work well when paired together, just look at those that are adjacent to one another.  
Colour can influence the atmosphere of a kitchen space, so if it's a calming ambience you want, neutral tones and pastels will establish it perfectly. If you anticipate a busy kitchen, there's a lot of energetic colours to pick from. 
With the help of our advisors at ERG Scotland, you really can't go wrong when organising a kitchen extension design. Make an appointment here to chat it through.